Dr Abhilash Chandra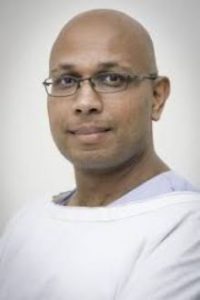 Dr Abhilash (Abe) Chandra is an Adelaide-based Vascular and General Surgeon (FRACS). He completed his combined MBBS (Hons)/PhD degrees at the University of Sydney in 2006. He passed his General Surgery Fellowship Exams in 2012, and his Vascular Surgery Fellowship Exams in 2017.
Abe is accredited for management of the full spectrum of vascular disease, as well as general surgical conditions. He performs open, endovascular, and laparoscopic procedures. He is happy to assess and manage patients with:
Arterial conditions (all aneurysmal & occlusive diseases)
Venous conditions (Varicose veins, venous insufficiency, acute & chronic DVTs, thrombophlebitis, post-thrombotic syndrome, May-Thurner Syndrome).
Chronic wounds & ulcers (venous, arterial, vasculitic, neuropathic/diabetic) • Renal failure related treatment (peritoneal or haemodialysis therapy)
Entrapment syndromes (Thoracic Outlet Syndrome, Popliteal Artery Entrapment, Chronic Compartment Syndrome)
Chronic pelvic pain from pelvic congestion syndrome (ovarian vein embolisation & varicoceles)
He has a particular interest in minimally invasive endovascular techniques for arterial and venous conditions, including atherectomy (resection of calcific plaque) for arterial occlusive disease, mechanochemical thrombolysis for acute DVTs, and minimally-invasive treatment for large varicose veins with VenaSeal vein glue. He is also able to treat superficial vascular lesions including spider veins and telengectasia with Intense Pulsed Light Therapy or Sclerotherapy.
Abe tries to see all new referrals within 2 weeks.
Abe lives in Adelaide with his wife and 2 children. He has been in the Australian Army Reserves since 2000. In his spare time, he enjoys rugby union, fishing, travelling and spending time with his family.
Locations
Outpatient Clinics:
Ashford Vascular Clinic, Suite 28, Level 3, 57 - 59 Anzac Hwy Ashford SA 5035
Norwood Specialist Clinic, 48 Magill Road, Norwood SA 5065
Western Hospital, 168 Cudmore Terrace, Henley Beach SA 5022
Blackwood Hospital, 13 Laffers Road, Belair SA 5052
Calvary Central Districts Hospital, 25-37 Jarvis Road, Elizabeth Vale SA 5112
480 Specialist Centre, 480 North East Road, Windsor Gardens SA 5087
Inpatient/Surgical Hospitals:
Ashford Hospital
Calvary Wakefield Hospital
Western Hospital
Referrals and Correspondance
Electronic Referrals can be downloaded here
Please send all referrals and correspondance to:
Ashford Vascular Clinic
Suite 28, Level 3,
57 - 59 Anzac Hwy
ASHFORD, SA 5035
Ph: 08 8293 5055
Fax: 08 8371 2130
www.vascularsurgeons.net.au